Snapshot of minerals permit applications in 2022
Publish date: 15 June 2023
See a snapshot of minerals permit applications we received and made decisions on in 2022.
We assess applications and issue permits to operators to prospect, explore and develop New Zealand's mineral and petroleum resources.
These could be applications for new permits, or to make changes to current permits. We assess these applications against the legislative requirements to determine whether they should be granted.
Permit applications can take varying times for us to assess. It depends on the nature of the application, its complexity, and the completeness of information that has been provided. For example, some applications require consultation with iwi before we can make decisions on them.
Snapshot of minerals permit applications made in 2022
Total permit applications received in 2022: 320
These included new permit applications, as well as applications for changes to current permits.
Here's how that compares with applications received in previous years:
Permit applications received year on year
This graph shows how many permit applications we received each year:
2020: 298
2021: 440
2022: 320
Most of the permit applications made in 2022 were for mining permits.
2022 permit applications - type of permit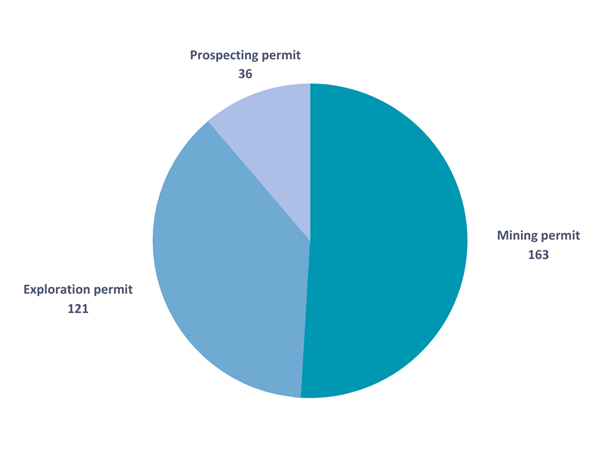 Of the 320 applications made in 2022:
163 were for a mining permit
121 were for an exploration permit
36 were for a prospecting permit.
Total permit applications we made decisions on in 2022: 344
Decisions could mean the applications were rejected, granted, declined, withdrawn or revoked. This number is higher than what we received in 2022 because we also made decisions on permit applications received in prior years.
Top 3 types of permit applications received in 2022:
New permit applications (90)
Change of operator or transfer (56)
Extension of duration (51)
Top 5 regions for new permit applications:
West Coast (47)
Tasman (10)
Waikato (12)
Southland (10)
Otago (6)
Snapshot of active minerals permits
At the end of 2022 there were 845 active minerals permits.
The top 5 regions for active permits:
West Coast
Otago
Waikato
Southland
Tasman
The top 5 mineral types with active permits:
Gold
Aggregate
Coal
Gravel
Silver